Frequently Asked Questions
How do I generate the selections?
Go to The Value Machine page at the link above and click the button to run the type of scan you require - All Races, Meeting or Specific race. The current value priced selections will appear as soon as the live markets have been scanned - normally just 2 or 3 seconds.

The value bet info will contain full details for each selection. These details will include the race, the selection, the advised price and the bookmaker(s) offering that price. Try to place the bet as soon as possible after you run The Value Machine as these are price sensitive selections and you need to achieve the advised price if possible.

Where do I place the bets?
I advise having accounts with all the bookmakers we are currently scanning:
Bet365, Skybet, Boylesports, Betfred,  BetVictor, Paddy Power, Sport Nation, Sporting Index, 888sport, Ladbrokes, Coral. William Hill, BetfairSportsbook, Betway, 10Bet, Unibet, SBK, Novibet, SpreadEx, Mansion Bet
When placing your bets, always try and select a bookmaker that offers Best Odds Guaranteed (B.O.G). If none of the B.O.G. bookmakers are offering the price, always go with the firm offering the best price. Most of these selections will shorten by the time of the race so we will get the best of it most of the time.

How many bets will there be each day?
This can vary dramatically based on the time you run the scan and how many times you return and run another scan.

Why is it so important to get the advised price?
These are value bets. When The Value Machine identifies a selection, it has calculated that the price being offered by a particular bookmaker or bookmakers is too big and therefore offers value. If you then take a price below that price, you may well not have got value – and consequently the long term profitability of your bet will be damaged. A simple rule to have is: if the price isn't available, don't back it. There are lots of value opportunities available every day. Sometimes you will miss winners by doing that - but you will miss an awful lot of losers as well. History tells me that, if you consistently back below the advised price, you won't make long term profits.
A good mantra to have is 'I'm backing the horse at the price, not just the horse'.

How often do the selections win?
You can set adjust the settings on The Value Machine to find selections in any price range that you wish. Depending upon the price range you choose, the win strike rate will vary. For example, if you choose to only identify selections at 3/1 and below, you would likely achieve a strike rate in the region of 32%
If you were more adventurous and identified all selections up to 20/1 you would expect a strike rate in the region of around 17%.

Will we have losing runs?
Yes, there will be losing runs. The length of losing run will, again, depend upon the price of selections you are prepared to back. For example if you were to back all selections up to 20/1, statistically you are likely at some point to hit a losing run of 50 bets.
If you are more risk averse and only wished to identify shorter priced selections, the losing runs will be shorter. At 3/1 and below you could statistically expect to hit a losing run in the region of 17.
Losing runs can be quite difficult to cope with psychologically, particularly when you are quite new to betting. It is important to maintain perspective and always remember that these selections give us an edge of between 10% and 15%. With an edge of that size, it is nearly impossible not to make money in the long term. However, the principles of randomness/variance can, and do, cause periods where the selections lose money. Maintaining the long term view and ignoring short term fluctuations will allow you to cope much more easily with the psychological pressures.

How large a betting bank will I need?
If you choose to back all selections regardless of price, I would recommend a betting bank of 250 points, This would mean if you had £1000 to bet with, you would split it up into 250 units of £4 and back each selection to £4 stakes, with £5,000 you would use £20 stakes and so on.
If you chose to back only selections at shorter prices, you could reduce your bank requirement quite dramatically. The table below shows a safe bank size depending on the price of selections you choose.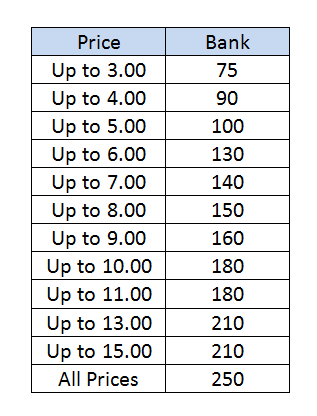 Setting aside this money is vitally important. If  the selections were to have a substantial losing run, with the relevant bank set aside you will have a cushion to see you through it.

What can I do to place the bets more quickly?
Before you run The Value Machine, have a range of your bookmaker accounts already open. Try and have all bookmaker accounts pre-funded to some extent so you can save time on depositing. It will become clear fairly quickly which accounts you need to keep best funded and you can then adjust the amounts you keep in each account.
Once you have run The Value Machine, click through to the relevant races, check the prices and place your bets with the advised bookmakers.

How should I stake the selections?
This is a matter of personal choice which should be based on your attitude to risk. Personally, I back all selections to 1 point level stakes win only. This produces the best return on investment over the long term. However, this is a fairly aggressive staking strategy and some members may be more comfortable backing each way on the larger priced selections.

What odds format are the selections given in?
Selections are always listed in decimal format. So, for example, if a selection is available at 4/1, it will be displayed in The Value Machine as 5.0

How many bookmakers is 'Generally'
We categorise 'Generally' as being at least 5 bookmakers.

What Does 'Alt Price' Mean
'Alt Price' in the scan listings means Alternative Acceptable Price to take. This appears when the Value Machine calculates that taking a an alternative lower price is still acceptable as it still offers value. If there is no 'Alt Price' indicated, you should only bet at the advised price.

How do I set The Value Machine to emulate the results of The Morning Value Service
The setting rules I have used for The Morning Value Service have been:
Price Range 2.00 to 21.00
All Bookies ticked
Min Value Bookies set at 2
Max selections per race set at 3 (Lowest Price)
If you then run a scan at 10.30am UK time and then again 45 minutes UK time before the first race of any evening meeting, you will come up with near identical selections to The Morning Value Service.

Why do selections sometimes change from scan to scan?
There are 2 possible reasons for this happening:
You've already added the selections to the already backed section - and they won't then appear in any future scans
Or it's simply down to price movements.
The Value Machine is identifying horses that it believes will start the race at a shorter price than now.
That assessment changes quite regularly based on price movements and other factors. If for some reason the bot no longer calculates that a particular runner will go off shorter, it will stop flagging it up. This could be because the price has already moved in or because other prices in the race have changed.
The Value Machine gets these price calculations correct in about 70% of cases which is more than enough to make substantial profits in the long term
Depending on when you run the scans and how often, you will get sometimes markedly different selections - but all will be at value prices and will, by definition, be profitable in the long term.
This means there will not be a definitive set of selections for the service because it is influenced by the time of scan, number of scans, settings used etc.

Do you have a question not answered here?
Email me at support@thevaluemachine.co.uk